Historic Pools of Britain event – Newcastle City Pool & Tynemouth Outdoor Pool
Two stories of passion and determination were enjoyed by those joining us for our event in the North East on 30 September, which also fell on the 2nd birthday of Historic Pools of Britain.
And, with work about to begin on site at Newcastle City Pool, there was lots to celebrate!  It is said that in the end love always wins, and it is clear that it is the love for this amazing building and the determination to see it saved, restored and back in use by the Re-open Newcastle Turkish Baths Group, is where the opening chapter in the future of this iconic building begins.
The success of the community group in galvanising community support, campaigning and awareness-raising led to the project's next leap forward, which has been the partnership with Fusion Lifestyle.  As an organisation with a specialism in historic pools, Fusion recognised the cultural significance of this Grade II listed building, its place within the community, and the opportunity it offered to create leisure and job opportunities. Fusion's bid to take on City Pool was accepted by Newcastle City Council following an open tendering process.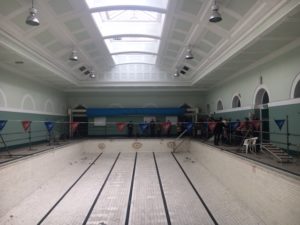 The project's architect, Graeme Dodd of Napper Architects, took guests back in time by painting a picture of how Newcastle City Pool came to be.  It was conceived in the 19th century as one of three buildings that were seen as key assets and investments in the city's development and profile, alongside the creation of a new town hall and courts.  The design for the building, which incorporates City Hall, was agreed following a competition, and although these were times of austerity it was always the aim to produce the very best. Therefore, when completed in 1928, it was a building as much about its appearance as its facilities, with its grand and imposing facades.
Through their examination of the building in its current state Graeme and his team have been making some exciting discoveries, such as the reveal of the original tile colours in the pool hall, that were painted over many years ago, and terrazzo floors that have been covered over.  With only black and white pictures to reference, the finds have literally illuminated the project and will ensure that wherever possible the finished look is as true to the original design concept as possible.
Of the two pools, the ladies pool as it was originally, is in the best condition, and has therefore been chosen as the one that will be once again open to swimmers, whilst the male pool will house a fitness suite and exercise studios.  The Turkish baths suite will be re-opened and the project will also include a new spa, treatment rooms and a café.
Expected to open late 2018 / early 2019, we look forward to a return trip!  In the meantime you can find out more details and plan your own trip here: http://www.citypool.co.uk/.
The true potential of Tynemouth Outdoor Pool as a project has to be seen to be believed.  So having had an introduction from Michael Wood, one of the volunteers leading the campaign to save the pool, it was thanks to a bus tour by campaign supporters Tyne Idols, that guests were able to pay a visit to this spectacular location.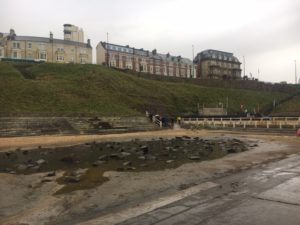 Its stunning coastal setting, the sweeping sandy beach that it occupies a corner of, the short distance from Newcastle itself and the wonderful surrounding facilities make Tynemouth Outdoor Pool a real gem.  Opened in 1925 when seaside leisure time was sought by working people, it was well used and loved until it fell into disrepair in the mid 1970s.  Retaining the pool has been a challenge for the Friends of Tynemouth Outdoor Pool, which has had to overcome threats to permanently fill the pool in.  However, it has been extremely successful in raising pledges of support through a community share offer and remains steadfast with a vision to transform the site into a leisure facility for the local community, visitors and tourists.
To find out details on how you can support and follow progress the progress of Tynemouth Outdoor Pool visit: https://www.tynemouthoutdoorpool.com/.
Gill Wright, of Historic Pools of Britain, said, "Great speakers, sharing wonderful stories of two inspiring projects made our visit to the North East unforgettable.  We have followed the progress of the City Pool project for some time now, so to enjoy a building tour and to see the plans getting underway was thrilling.  Our visit to Tynemouth revealed another wonderful treasure; a pool in an amazing setting that has so much potential and fantastic community support to which we add our own backing."
Our next event will take place in April 2018.  To register your interest email info@historicpools.org.uk.