Victoria Baths launches 'Amazing Glazing' Crowdfunder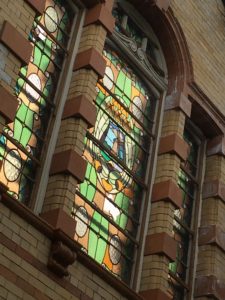 The iconic Victoria Baths, one of the founder members of Historic Pools of Britain, has launched a Crowdfunder appeal to support the restoration of one of its stunning stained glass windows.
Rarely will you see such decorative splendour in a municipal pool, which is one of the reasons why Victoria Baths is known as Manchester's 'Water Palace'.
The 'Amazing Glazing' appeal aims to raise £10,000 to bring back to its original magnificence the 'Windmill window' in the former Males 2nd class pool, which stands at six metres high and features hundreds of panels of different coloured and textured stained glass. The much-needed restoration of the window, which has some missing panes and a rotten frame, will also help to make the building weathertight.
Amy Lewis, Trustee of Victoria Baths Trust, says, "Victoria Baths is one of the most iconic buildings in Manchester thanks to the people who campaigned to save it, and it's the public and our community who have been with us at every step of our restoration journey ever since. The work to restore this window has now become urgent, which is why we are asking for an extra helping hand, with everyone who gets involved knowing that by supporting Amazing Glazing, they will also be playing a part in securing the future of Victoria Baths."
The Males 2nd class pool, now known as the Sports Hall, is at the very heart of Victoria Baths and is the focal point for many of the events that it organises. There are over 100 stained glass windows situated throughout the Grade II* listed building, including the Angel of Purity in the Turkish Baths.
To support Victoria Baths' 'Amazing Glazing' Crowdfunder visit: crowdfunder.co.uk/amazing-glazing Pledges can be made until 12pm on Wednesday 6 March 2019.