Victoria Baths' celebration goes swimmingly
Victoria Baths, in Manchester, has celebrated its birthday with a celebratory swim weekend, which has also reflected its vision for the future.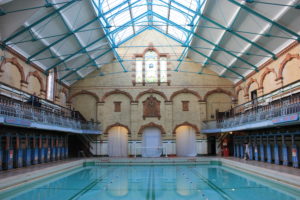 The 'Swim for Restoration' event at Manchester's Water Palace was only the third time in 26 years that its gala pool has been filled for public swimming – and was surrounded by an array of festivities that included art exhibitions, music, water polo, and a school swimming gala.
Chairman of British Swimming, Maurice Watkins CBE, former pupil and now Chair of Governors at Manchester Grammar School and a Patron of Victoria Baths Trust, said "It was always an exciting occasion to come from school to Victoria Baths for our Swimming Championships. Victoria Baths is a gem in Manchester's heritage crown and fundraising like this enables them to carry on with important restoration work."
As well as watching the Swimming Showcase – where pupils from Manchester Grammar School and Manchester High School for Girls participated, the event gave the public their first opportunity to view a brand new exhibition. Commissioned to tell the story of Victoria Baths from its opening in 1906, right through to its closure in 1993, and then its partial restoration, it includes an original two-piece swimming costume designed by Sunny Lowry for her channel swims in 1932 and 1933. Ethel "Sunny" Lowry MBE, was both a student at Manchester High School for Girls and a member of Victoria Ladies Swimming Club at Victoria Baths, and her flag, featuring the Manchester bee motif and Lancashire roses, was sewn especially for her monumental swims to France.
The money raised from the event will go towards Victoria Baths Trust's long-term fundraising, which aims to bring back into their original use some of the building's historical features, including the Turkish Baths.  United Utilities enabled the event to happen by generously providing 90,000 gallons of water to fill the pool, at no cost.
For further information on future events and to follow the progress of Victoria Baths visit www.VictoriaBaths.org.uk