Book your tickets now for Bramley Baths
On Tuesday 29 October we invite you to join us at Bramley Baths in Leeds for our autumn Historic Pools of Britain event.
Bramley Baths was one of our founder members, the team recognising the importance of having national representation and connectivity between all historic swimming pools – both indoors and out. The successful operation at Bramley also helped to inspire the vision for Historic Pools of Britain – we knew that more people needed to know about and learn from this pool; an exemplary not-for-profit community enterprise run by the community for the community.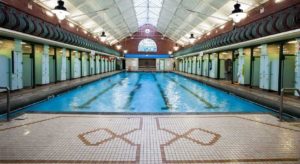 So we are delighted that this event will give guests the opportunity to find out more about Bramley Baths, including one of its latest projects, which has seen it benefit from £500,000 investment into its pool plant and filtration system.
Speakers will include Courtney Harrison from Bramley Baths, Paula Larkin from Govanhill Baths in Glasgow, Jane Richards from Byrne Avenue Baths in Merseyside and Cait Read from Newcastle City Pool.
The format of this event will be a little different in that we'll be including two workshops. One will look at how historic pools can join together to share and celebrate their stories through a series of history projects. The second will be focused upon Historic Pools of Britain itself and the next important steps in the development of the organisation. For both we are looking for people to actively participate and contribute.
And woven into the day there will of course be a chance to savour this Edwardian Grade II listed pool that opened in 1904 at its very best – from the water, with a swim incorporated into the day!
For further information or to book a place please email info@historicpools.org.uk