A Historic Pools Hello to Hathersage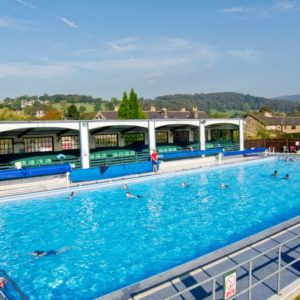 Taking its place on the Historic Pools of Britain map is our newest member, Hathersage Swimming Pool, which has played a central role in its community since it opened in 1936.
Hathersage is a popular visitor attraction, which charms people with its original bandstand and solarium. Swimmers are also treated to a stunning setting, with the Derbyshire countryside as the backdrop.   An active events programme including night swims, a 24hr summer solstice swim, coffee mornings and a triathlon add an extra dimension to pool life.
Find out more about the pool and the story of Mr George Lawrence, who gifted the pool to the community here.