Be a Friend to the nation's Historic Pools
Get involved and make a difference
Historic Pools of Britain is encouraging supporters of historic pools to show their love for these national treasures, many of which are facing particularly challenging times as a result of the impact that Covid-19 is having, and expected to have in the year ahead.
Gill Wright of Historic Pools of Britain, says, "Many of the pools that we represent were created with a vision of wellbeing that would be gained not just through swimming, but as a result of the beautiful surroundings or backdrop of nature that they provide as part of their experience. In their design you see the finest examples of civic architecture, made accessible to all. They are not just memory banks of the heyday of swimming, but places where people gather socially, organise events, take exercise classes and travel to visit.

"Many have survived to date through the community campaigns to save them, and during this hugely challenging time, it is likely to be thanks to community support that many of these magnificent pools continue to survive. We hope that people might consider what they can do to support the nearest historic pool to them and be inspired by the difference this could make to their community."
Here is a selection of ways to show your support for some of our member pools around the country:
Bramley Baths in Leeds has been under community operation since 2013. The team there gives so much with swimming sessions, swimming classes, exercise classes, creative events and more. With its poolside changing cubicles, abundance of stained glass and the original oak ticket desk, a visit is a memorable experience. Bramley Baths has just re-launched its friends scheme in the hope that this will give it additional support during these challenging times. For a minimum of £4.65 a month, you can become a part of the Bramley Baths family.
For further information on becoming a Friend of Bramley Baths and what this includes visit: bramleybaths.com/friends-of-bramley-baths/
Jayne Young, CEO of Bramley Baths, says, "We're determined to keep Bramley Baths at the heart of the community until we re-open. We've been really touched by the number of people becoming Friends and renewing their memberships as every little bit of support is invaluable in these difficult times."
Peterborough Lido, situated just a short walk from the centre of Peterborough, is a much-loved part of the town's leisure and culture offer. It says something of the spirit of community in Peterborough that five different sets of architects collaborated on the plans for it, having jointly responded to a council led design competition held in 1933. No fees were charged with the work being undertaken for the good of the community. The result is stunning, and can be enjoyed today much as it would have been in the1930s, with the iconic clock tower and pavilions, sun decks and small café area creating an eye-catching scene.
The Friends of Peterborough Lido are fabulous supporters and ambassadors of the pool, who work to ensure a sound future for this treasured piece of community heritage, which is run by Vivacity. Membership is just £5 a year with benefits including a pre-season swim and lunch. For further information: friendsofpeterboroughlido.co.uk/membership/
Grange Lido, a Grade II listed 1930s Art Deco lido, sits on the edge of Morecambe Bay; its 50m pool with a stepped diving stage strikes an iconic image. Closed in 1993 the Save Grange Lido campaign has been mapping out its future since 2011, with huge community support. It is currently working on architectural plans to prepare for a planning application later this year, for what it is hoped will be a community-owned leisure facility that celebrates the history and setting of the only remaining seaside lido in the north west.
There are two ways that you could support Grange Lido. You could make a donation, which, with match funding from the Architectural Heritage Fund, means that every £1 donated becomes £2. Alternatively you could become a Friend of Grange Lido and become an active member of this community for just £2.50 a month; either way you'll be playing your part in the story of this magnificent pool. For further information on becoming a Friend of Grange Lido and the benefits this offers visit: savegrangelido.co.uk/friends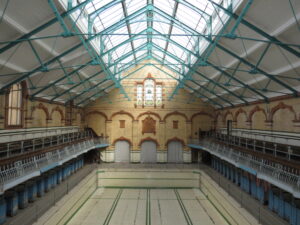 Victoria Baths in Manchester is facing its own very distinct challenges. In the years that Victoria Baths Trust has been working towards the restoration of the Grade II* listed building, with three pool halls and a Turkish Baths suite, it has become a successful heritage venue. However, the building cannot operate during the colder months, and now the public events programme which was due to launch in spring 2020 has not been able to go ahead. Like so many visitor attractions, the timing of the lockdown caused by Covid-19 couldn't have come at a worse time for Manchester's water palace.
Victoria Baths Trust is asking people to Back the Baths in a crowdfunder campaign that includes an array of rewards, including the opportunity to become a Friend of Victoria Baths for a donation of £20. For more information on how you can Back the Baths visit: crowdfunder.co.uk/backthebaths
Cleveland Pools in Bath, opened in 1817, is the oldest public outdoor swimming pool in Britain. Standing directly beside the River Avon the Grade II* listed complex has stood closed for nearly 40 years. Formed in 2004 by local residents, the Cleveland Pools Trust is aiming to restore the pools to their heyday, when they were a place for fun, swimming and socialising. Plans include the restoration of the two pools, a refreshments area, sunbathing areas and river access entry.
With funding from National Lottery Heritage Fund (NLHF) secured, the Cleveland Pools Trust is working on delivering its plans for the restoration and re-opening of Cleveland Pools. Covid-19 means that it is trying to work 'business as usual' during these challenging times with staff and consultant teams working from home, with the continued support of volunteers.
The role of volunteers will be even more important during these testing times and for those would like to get involved in this wonderful project there are volunteering roles available in the following areas: events and activities; learning for all; and interpretation – telling the story of the pools. For further information visit: clevelandpools.org.uk/volunteer