A warm welcome to the Friends of Carlisle Victorian and Turkish Baths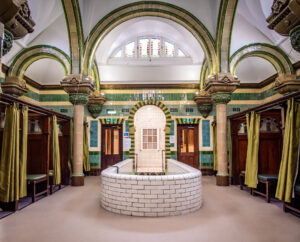 We are delighted to welcome Carlisle Public Baths to the Historic Pools of Britain family. This is a pool with a story to tell and a colourful timeline that illustrates the different chapters. But what really does the talking are the wonderful pictures of this civic building, which includes a Grade II listed Turkish Baths.
Its life began in 1884 and, despite the lavish design we now see, the original purpose was simple: to be a place for working people to wash, bathe and launder their clothes. However, Carlisle's leaders shared the vision of other great cities and so slipper baths, vapour baths and showers were also included at an early stage.
It wasn't until 1909 that the Turkish Baths were opened and it's hard to believe, given the beauty and functionality of these facilities, that they are now one of the few remaining in the country (and one of even fewer that is operational!).
Fast forward to current times and the future of Carlisle Public Baths is in jeopardy. There are two factors impacting on the situation; a new facility means the proposed closing of the three pools that make up Carlisle Public Baths and the contract with the Council's leisure operator (GLL) doesn't currently include the continued operation of the Turkish Baths.  The Friends of Carlisle Victorian and Turkish Baths hope that with sympathetic renovation and restoration that the old Public and Turkish Baths could be turned into a health and well-being centre for the community. You can find out more about the history of Carlisle Public Baths and its current situation here.