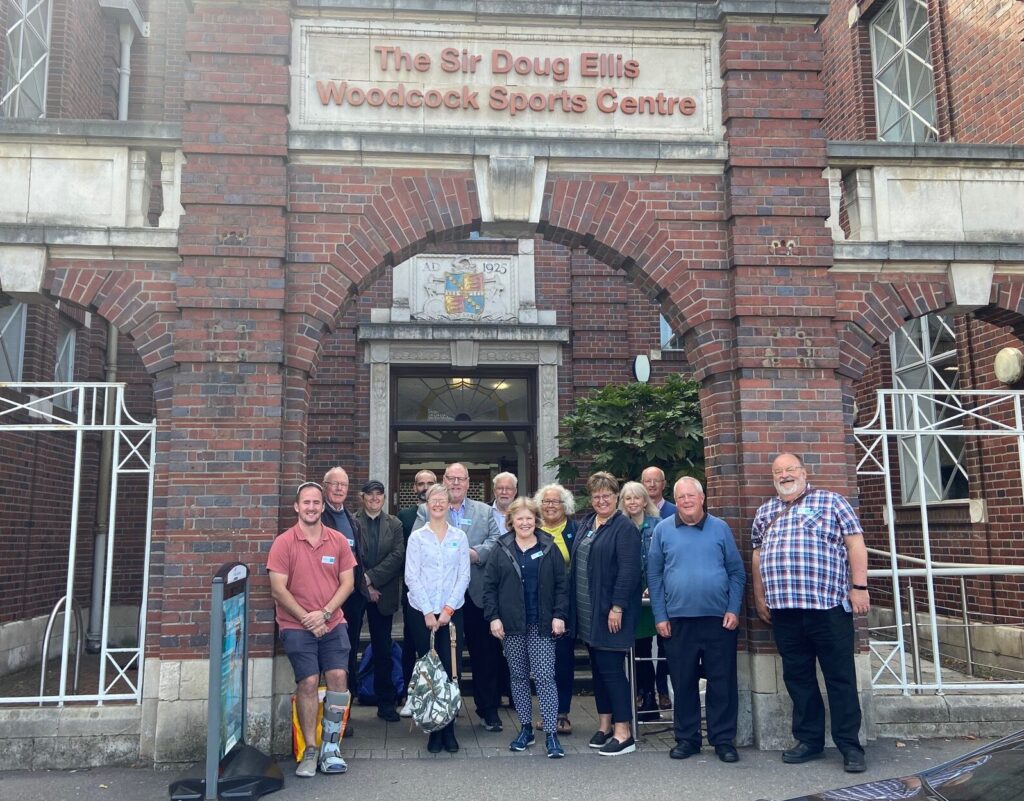 A sunny Birmingham greeted participants for our event at Aston University as part of Birmingham Heritage Week.  Our focal point was a visit to Sir Doug Ellis Woodcock Centre, but the day began with a virtual visit to another part of the city, with Viv Harrison sharing an update from Moseley Road Baths.
Moseley Road Baths
Viv shared details about the future vision, which looks to 2030 with the aim for the Baths and adjoining Library to be connected, restored and transformed into a heritage-led wellbeing, leisure and cultural destination.  In the case of the Baths this would include the restoration of the Gala pool and transformation of the smaller pool into an events space.  It would also include the landscaping of a large green space that sits to the rear of the Baths.
Helping Moseley Road step in the right direction is the recent award of a £15.5million Levelling-Up grant, crucially supporting ongoing repairs to stop further decay to the Grade II* listed building.  There will also be improved accessibility with the addition of a lift, works to the library and connection of the two buildings as part of the project.  This sits alongside £450,000 awarded by Historic England and Birmingham City Council for works to the superintendents flat and development funding from the National Lottery Heritage Fund, which it is hoped will lead to work on the Gala pool.
Bramley Baths
It was timely to hear from Bramley Baths, who in January 2023 will celebrate 10 years of being a community led organisation.  In the beginning the team literally went door to door telling neighbours, that if they wanted to keep the Baths they had to use it.  And now it is not just about swimming, there are a whole host of activities taking place for every age group.  Bramley Baths has also been teaching others to be community enterprises and taking part in knowledge exchanges to help other historic buildings.
Thank you to CEO David Wilford and Duty Manager Jennie Ashton for joining us and for all that you do to support other HPB members.
Stonehaven Open Air Swimming Pool
Next our focus turned to lidos and an introduction to one of our newest members, Stonehaven Open Air Pool in Aberdeenshire by Stephen Harris, Chair of Friends of Stonehaven Open Air Pool.  Built in 1934 to what were then Olympic standards, it enjoyed a heady time during the 1930s, when people would travel in their thousands to holiday in the area.
It was the 1980s when the decline set in and the season was reduced to such an extent that the pool couldn't pay for itself and was set for closure.  And so, the Save the Pool Campaign was established in 1995 and following victory, became the Friends of Stonehaven Open Air Pool.  Now the group is working hard to build on its successful positioning as a visitor attraction, being the only outdoor pool of its period in Scotland, and looking at new ideas.
Sir Doug Ellis Woodcock Sports Centre
Like all the pools featured as part of the day, Sir Doug Ellis Woodcock Sports Centre, also faced a threatened future and one which its listed status played a part in securing.
When in 1979 it was bought by Aston University from Birmingham City Council for a nominal sum of £1, it had already been out of use for a couple of years.  Therefore, it was no surprise that by the 1990s structural deterioration was evident.  However, a bold vision was unfolding that would see the University incorporate the historic pool as part of its future development plans for its campus sports facilities. Taking us through Woodcock's journey of restoration was Mike Kirkman, who oversaw the project and has just retired as Director of Sport at Aston University.  Remarkably the decision was made to refurbish the pool in 2007/8 and the project was complete by 2010.
Hearing Mike share his experiences was a wonderful occasion.  His insight into swimming pools gained over a career that has taken him right across the country makes him a cherished trustee of HPB.