Our spring event took us to the Peak Distric, with a day spent enjoying the beautiful surroundings of Hathersage and at its centre Hathersage Swimming Pool.  If you've read into other historic pools, it won't come as a complete surprise to hear that back in the 1930s Hathersage pool was built in 10 weeks, if you haven't this will seem like a miracle!  Putting this even further into context, its recent restoration work took 12 months to complete, which actually when you see the work complete and the challenges faced was some feat.  Sharing both its history and how its future is being secured, we heard first from Councillor Bridget Hanley who is a member of Hathersage Swimming Pool Committee and then Tom Crooks of Tom Crooks Architecture Ltd who has overseen the recent work.
What centres everything that takes place at Hathersage is the philosophy of its founder, George Lawrence, a local industrialist and philanthropist.  This is now in the hands of the Parish Council, whose mission statement is:
"To preserve the generous gift made in 1936 by George Lawrence to the villagers of Hathersage of an extensive playing area and open-air swimming pool and improve it to provide a healthy lifestyle through sport and exercise in a first class year-round facility that is open to all in this beautiful part of the Peak District."
Also returning its original character is the latest chapter of work at Withington Baths, Manchester.  Funded through a combination of a grant from the National Lottery Heritage Fund, a loan from Manchester City Council and the Bath's own savings it has brought even more of the building into community use and reinstated much of the beautiful stained glass windows.
Paul Smith and Dennis Shannon jointly gave an update on the two components of their recent work – the first being their engagement project which includes school workshops, an oral history project and tours of the building.  The second, is their refurbishment project, which has included repairs to 11 roofs, tiling repairs (including having specially made to match replacements), re-instatement of the stained glass windows, repairs to the lintels and concrete – all whilst managing to stay open to the public.
The morning session also included an introduction to Savoy Systems and the flexible way in which its ticketing system operates and integrates other elements into its approach, including membership, donations and communications.  A specialist in working with cultural organisations, including cinemas, theatres and festivals, Savoy Systems has been supporting ticketing operations at Jubilee Park Woodhall Spa for ten years, with great success.  As a supporter of Historic Pools of Britain, Savoy Systems is happy to chat to any member pools about how it may be able to help with any requirements.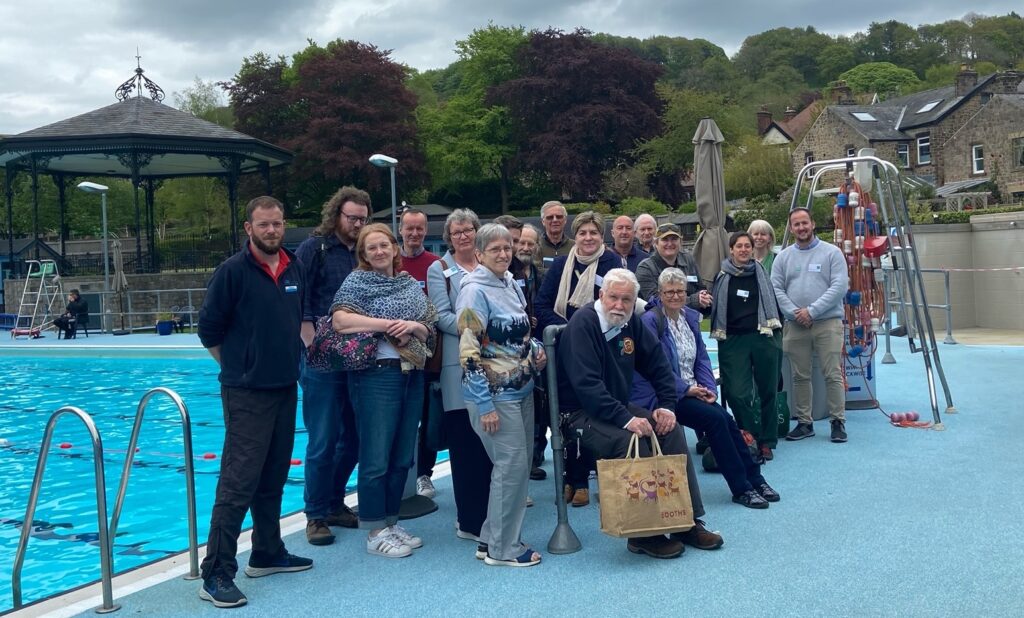 A tour of Hathersage Swimming Pool and then a much enjoyed swim concluded a wonderful day in the Peak District. Our next event is already in the planner and will take place on Wednesday 11 October at Chester City Baths.  If you want to reserve a place then email clare@historicpools.org.uk.